---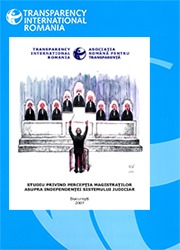 Assessing the perception of magistrates on the independence of the judiciary to adopt effective measures to strengthen the independence and the responsibility of magistrates and eliminating the negative aspects of the Romanian justice system.
The study is important from a dual perspective: on the one hand, the Romanian judicial system has not yet known an assessment of the magistrates' perception of independence or lack of independence and of the causes that determine it, and on the other hand, the conclusions of the study have an important potential for developing reform policies based on "source-based" information.
A special emphasis has been placed on the functional relationships within the justice system and on the balance of power in the state, notably the relations of the judiciary with the executive power, the legislative power and the "civil power".
The study aimed to highlight the magistrates' perception of the independence of the judiciary, as it is outlined within the system, without attempting to weigh or reconcile the positions of magistrates with those of external opinion makers, the media, NGO, political leaders or international organizations.
To see the full content of the study, click here.
---