FOR THE PRESS
Center for Integrity in Business - CIB
TI PROJECTS
CORRUPTION
LEARN ABOUT IT
TRANSPARENCY INTERNATIONAL LIBRARY
Launching event on
"The preventive role of judiciary in protecting the financial interest of the EU"

Transparency International Romania in partnership with the European Economic and Social Committee are launching the report and policy paper on "The preventive role of judiciary in protecting the financial interest of the European Union".

The event will take place on Wednesday, 29 November 2017, from 14:00 until 17:00, local time, at the European Economic and Social Committee, room TRE 7701, Trèves Building, 7th floor, 74 rue de Trèves, 1040 Brussels.

The debate will cover the topics:


Importance of fighting corruption in the private sector in order to ensure the effectiveness and efficiency of public investments
Results of the research and conclusions of the comparative analysis on the actual judicial practice on regarding the application on additional sanction – exclusion from public procurement and its estimated impact on protecting the financial interests of the EU
Recommendation of the policy paper to enhance the role of judiciary in protecting the financial interests of the Union by consolidating its practice and using it as a basis for exclusion systems

This event is organized as part of a project supported by the European Commission through the European Union Programme Hercule III (2014-2020). The project aims at raising awareness among judicial professionals regarding their role in protecting the financial interests of the Union, by developing high profile comparative research activities regarding the application of a specific judicial protection instrument - exclusion from public procurement as an additional sanction provided by the criminal law.

The preventive role of the judiciary in protecting the financial interest of the European Union
- a comparative analysis for improved performance -

The preventive role of the judiciary in protecting the financial interest of the European Union
- a comparative analysis for improved performance -

Press relrease

Recently, the Board of Transparency International Romania has become aware – and it is not a first – of a series of disinformation items emerging in the public area, aimed at provoking false attitudes and opinions addressed to people who are striving to do good in this country.

The diversity of opinions cannot and must not generate extremist and undemocratic behaviour that exceeds the limits of truth and reason as well as the standards of an open society.

Read more...

We need transparency, responsability, honesty, lucidity and democracy

February 2, 2017

The events we witnessed these last few days, that worried the entire country and the world, are the result of a fundamental matter and two major factors, namely the lack of a public debate and the means used to adopt certain law changing measures, as well as the misuse of the anticorruption message and sincere indignation of some citizens groups for political purposes.

Read more...

Corruption Perception Index (CPI) 2016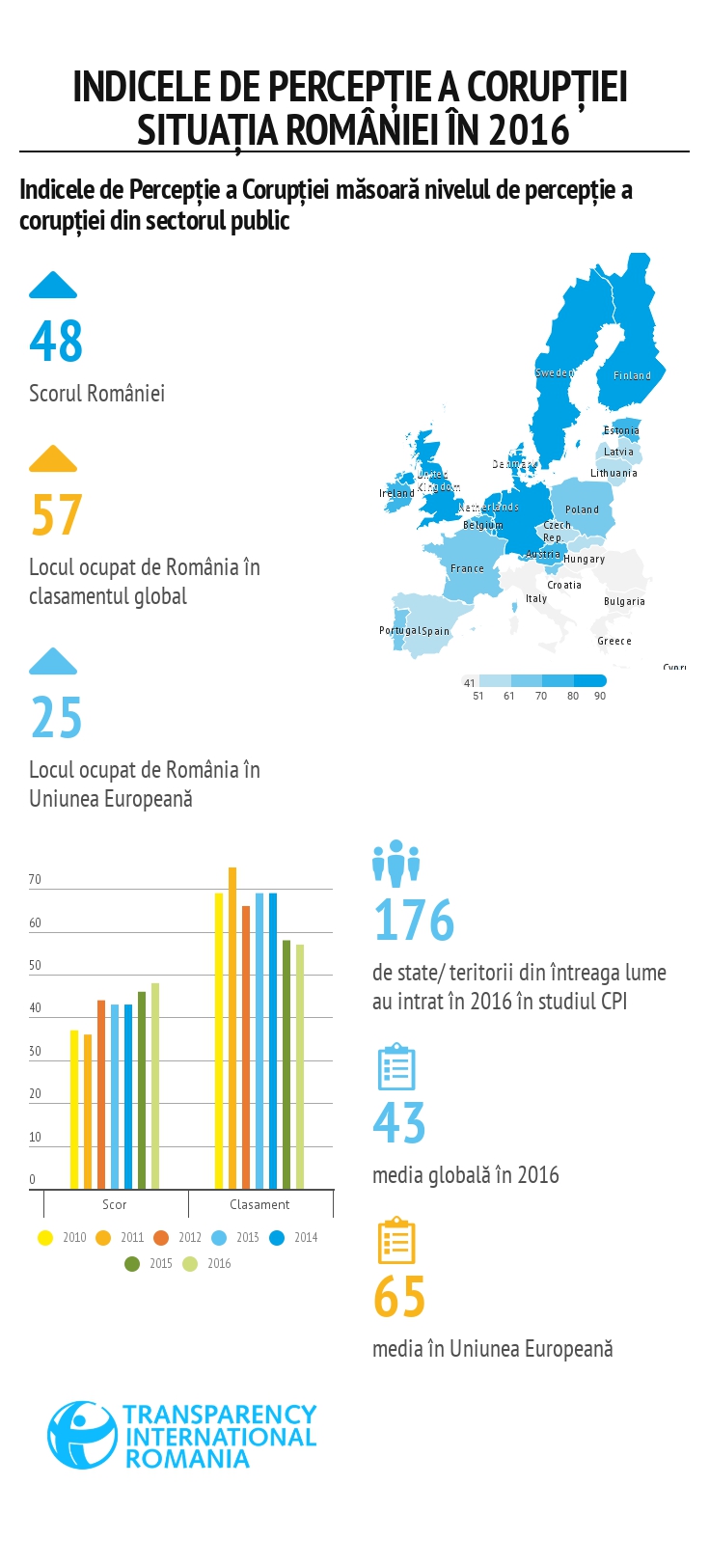 În focus TI
Seminarul "Publicarea academică: tendinţe, oportunităţi, capcane",
parte a Summitului de Integritate pentru Prosperitate.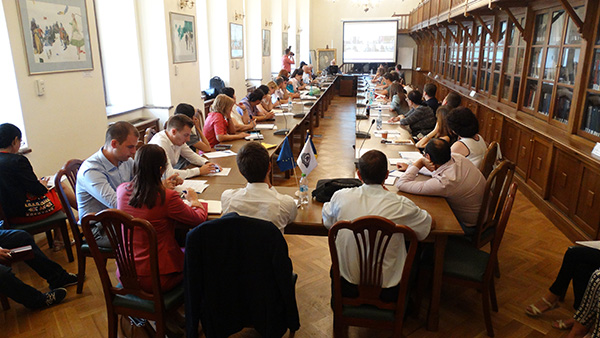 Transparency International Romania together with Griffiths School of Management, Bucharest University of Economic Studies and the National University of Political Studies and Public Administration organized on the 13th and 14th of September in Bucharest and Oradea the Seminar "Ethics & Success in academic business publishing. Publishing in ISI Journals", as part of the Integrity for Prosperity Summit. Among the topics of discussion we can recall the evolution and currents existing in academic business publishing, advices for successful publishing in academic journals and ethical dilemmas that may occur in academic publishing.
Present at the event where students, MA students, PhD students, teachers, professors, researchers, and members of the academic forums and they interacted with Prof. Garz Akerhurst, Aberystwyth University and Winchester University England, Prof. Rick D. Hackett, McMaster Canada and Prof. Adrian Ziderman, Bar-Ilan University Israel, members of the prestigious International Network of Business and Management Journals. They have shared not only their experiences as editors of ISI journals but also necessary information to any person who would like to publish in ISI journals or other index journals.
Read more ...
ENHANCING JUDICIARY'S ABILITY TO CURB CORRUPTION - practical guide

This Guide provides judicial officials and decision-makers with a reference framework for consolidating integrity within the judiciary and for judicial reform, where this is required. It also provides civil society with a set of benchmarks against which they can hold their national judiciaries accountable, and that help drive their advocacy efforts.
SEMNAL TI


"Marked for life" - promo al Transparency International (Windows Media Player - 5.5 MB)