On April 16, 2015, Transparency International Romania addressed a letter to the Superior Council of Magistracy's President, Marius Badea Tudose, in response to current debates in the judiciary on the accountability of magistrates in the exercise of public office and the interference of the justice intelligence community.
Transparency International Romania proposes to the SCM president to organize a public debate, bringing together representatives from the SCM, Justice, official informational structures, the Parliament, the Government, the Presidential Administration, the Legislative Council, the Constitutional Court, as well as representatives from magistrates associations, associations Professional and non-governmental organizations.
We believe that such a debate, convened at the SCM initiative and carried out in the presence of the media, will play the role of a clarifying debate with audience both at national level and in international communities.
Also, TI-Romania provided the SCM with two documents: an opinion on transparency, entitled "On magistrates' liability and interference in justice", a policy paper titled "Information services in institutional balance", as well as an open letter Addressed to Mr. Marius Badea Tudose, chairman of the SCM.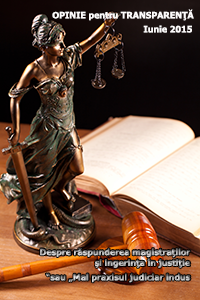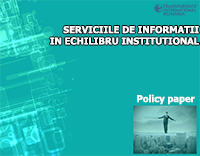 Data publicare
:
16/06/2015