>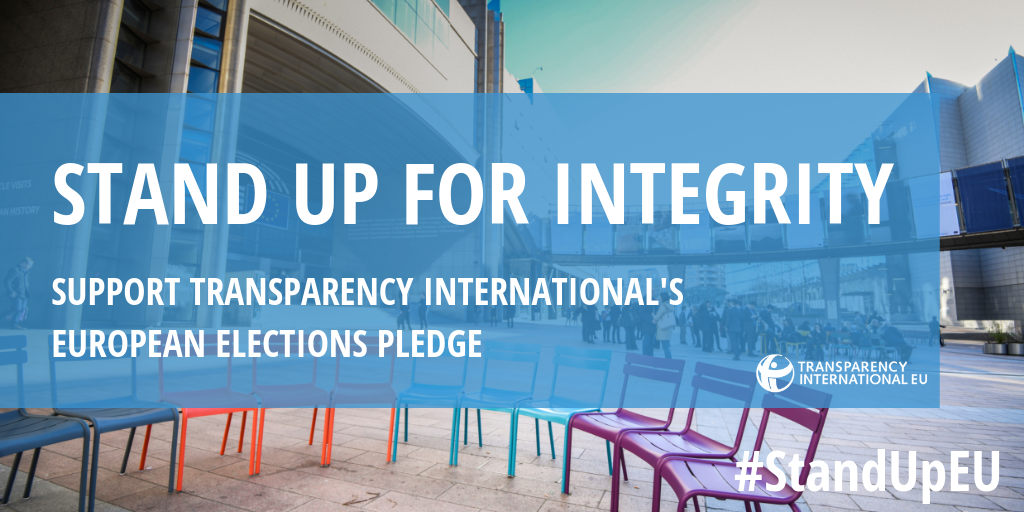 EU policy makers must stand up for integrity
Lead candidates from seven European political parties sign up to Transparency International's pledge
April 9 2019, Brussels
Ahead of the European Parliament elections in May, Transparency International is launching a pledge to urge candidate Members of the European Parliament (MEP) to affirm their support for an EU with renewed political integrity.

Stand up for Integrity calls on prospective MEPs to make ethics and transparency the foundation of their future parliamentary activities. Along with asking candidates to support our main policy asks, signatories are committing to the following specific actions:
Publish details on the use of allowances, only accept meetings with registered lobbyists and, publish meetings with them online.
To 'cool-off' after leaving the European Parliament. Meaning that MEPs will not lobby for an organisation on the EU Transparency Register while he/she receives the transitional allowance.
Support the creation of an independent body for ethics oversight that monitors conflicts of interest
"It is imperative that our future Parliamentarians take personal responsibility for transparency and integrity. With democratic values under attack in many parts of Europe, the European Parliament needs to be a model of open, responsive politics conducted with the highest standards of integrity. The Parliament has made great strides in this direction in the last five years but there is more work to be done," said Carl Dolan, Director of Transparency International EU.
In addition, the campaign sets out four anti-corruption policy priorities for endorsement by both prospective MEPs and lead candidates (or Spitzenkandidaten). Lead candidates are nominated by European political parties for the position of President of the European Commission and will a play vital role in safeguarding fundamental rights and overseeing democratic renewal in the European Union.
Fourteen lead candidates from the European People's Party, the Party of European Socialists, the Alliance of Liberals and Democrats for Europe Party, the European Green Party, the European Left, the European Free Alliance, and DiEM25/European Spring have committed to supporting Transparency International's priorities on enforcing the rule of law, preventing corrupt individuals and their illicit money from entering the EU, supporting an independent EU ethics body and supporting legislative transparency. The full text of these priorities can be found here.
"Corruption is one of the biggest barriers to achieving a European Union built on the rule of law, democratic cooperation and social justice. Therefore, we are asking the future President of the European Commission to join us and put integrity at the heart of everything the EU does and stands for," continued Mr Dolan.
Transparency International's asks and suggestions for improvement are based on 25 years of experience combatting corruption both in the EU and beyond. We encourage candidate MEPs to visit our website to sign the pledge and stand up for integrity in Europe.
#END#
Notes to editor
The candidates who have supported the pledge are:
Manfred Weber, European People's Party
Frans Timmermans, Party of European Socialists
Margrethe Vestager, Violeta Bulc, Guy Verhofstadt, Emma Bonino, Nicola Beer, Katalin Cseh and Luis Garicano, Alliance of Liberals and Democrats for Europe Party
Ska Keller and Bas Eickhout, European Green Party
Violeta Tomič, The Party of the European Left
Oriol Junqueras, European Free Alliance
Yanis Varoufakis, DiEM25/European Spring
Disclaimer: Candidates are pledging to work towards the objectives and to implement them in full compliance with the legal framework of the European Union, including the division of powers between the institutions.
---
Stand up for Integrity
Eu Elections Pledge 2019
---
Sign the pledge
If you are a Candidate for the 2019 European Elections and you want to register your interest in supporting Transparency International's 2019 Elections Pledge "Stand Up For Integrity" please fill in the form below. Once your request to support has been received, someone from our organisation will be in touch.
If you have any questions or experience any issues with your submission, please contact Matilde Manzi.
---
Data publicare
:
09/04/2019